Description
HPRC 3500
O.D. 14.57" x 19.61" x 7.28"
I.D. 12.62" x 17" x 6.29"
Features
The 3500 Backpack is an injection-molded backpack that is watertight, airtight and virtually crushproof. It is made of TTX01 polypropylene plastic resin with a micro-textured surface to reduce scratching. It can be customizable with a cubed foam,  with an interior nylon bag or can be purchased empty.
The ergonomic back pad is made of fast drying antibacterial foam and was designed to be thicker in critical areas such as the shoulder blades and lumbar to provide the precise level of required support and protection. The adjustable shoulder and side straps are made of soft air mesh to allow for comfort and quick moisture evaporation. Four extra strong side loops have been molded in for attaching future accessories such as a jacket and helmet net as well as a tripod holder.
Pack Basics
Injection molded shell made of advanced patented plastic, TTX01 polypropylene-resin, for up to 20% lighter weight
Micro-textured surface to reduce scratching
Neoprene O-ring to keep the case air and watertight
Air pressure release valve included
Double-hinge locking latches for secure close and comfort open
Four extra strong side loops have been molded in for attaching future accessories such as a jacket and helmet net as well as a tripod holder
• Certification: Material TTX01 gives the cases the feature to withstand impacts, drops and pressures thanks to its high resistance associated elasticity. An HPRC case used to extreme temperatures (hot or cold) does not lose its own distinctive features.
• The temperature range is guaranteed - 40 ° C - (40 ° F) up to + 80 ° C (+176 ° F).
All suitcases HPRC are watertight, resistant to dust, moisture, acids and sand. Withstand falls and impacts: a means of transport so as to unparalleled protection. The HPRC collection has been subjected to severe tests based on norms / national and international standards, such as for example the ATA 300, IP67, STANAG 4280, DS 81-41 FALL, IMPACT HANDLE, SEALED, UV SEAL OF MATERIAL COLOR.
The entire production line of suitcases HPRC is ISO9001 confirming a particular attention and interest in maintaining a product at the highest level. These tests and certifications guarantee and certify the quality of the product HPRC and its durability. They also give a guarantee to the user HPRC can buy case of high quality designed and manufactured entirely in Italy.
Choose from the following colors at checkout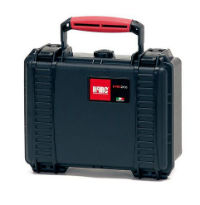 BLACK
Features
Inside Dimensions
Base Depth:
3.8125" (97mm)
Total Depth:
6.3125" (160mm)
Corner Radius:
1.5" (38mm)
Outside Dimensions
Length (O.D.):
14.57" (370mm)
Width (O.D.):
19.61" (498mm)
Total Depth (O.D.):
7.28" (185mm)
Case Information
Case Type:
Injection Molded
Empty Weight:
6.61 lbs (3.00kg)
Latch Type:
Up and over pull down
Made in the U.S.A.:
No, Made in Italy
Pressure Relief Valve:
Yes
TSA Approved

TSA requires the following:
The firearm must be in a hard-sided container.
The container must be locked. A locked container is defined as one that completely secures the firearm from being accessed. Locked cases that can be pulled open with little effort cannot be brought aboard the aircraft.
Please refer to the TSA website for more information:
TSA Transporting Firearms and Ammunition

:
Yes, Airline approved
Wall Construction:
Single Wall-Injection Molded
Waterproof

Waterproof: Yes - IP67 Rated 100% protected from dust and sand and can be submerged up to 3 feet of water for up to 30 minutes

Weather resistant - Can withstand spashes of water but cannot be submerged

:
Yes